News
In this column I'll include any breaking news on my favorite star, including upcoming movies, planned talk show appearances, box office figures, and so on.

If you are not sure what channel, you can check your local listings. They will also include the time.
THE CAST OF HAIRSPRAY WILL BE PERFORMING A NUMBER FROM THE SHOW AT BROADWAY ON BROADWAY IN TIMES SQAURE ON SUNDAY SPET 12TH. CHECK OUT BROADWAYONBROADWAY.COM FOR MORE INFO
CAST MEMBERS OF HAIRSPRAY WILL BE PERFORMING A CONCERT AT JOES PUB ON SEPT 19TH CALLED MULLETS OVER BROADWAY CHECK OUT TELECHARGE.COM FOR MORE INFO
TRACY JAI EXITS HAIRSPRAY OCT 3RD
HAIRSPRAY WILL PERFORMED AT BROADWAY IN BRYANT PARK ON JULY 22ND TRACY JAI DID NOT PERFORM WITH THE CAST, THEY DID NOT DO ANY NUMBER SHE WAS IN :(
Tracy Jai and her castmates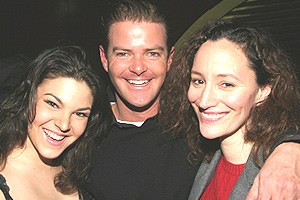 Tracy Jai withClarke Thorell the original Corny and Barbara Walsh who plays Ambers mom Velma
Tracy Jai is currently Amber in Hairspray. Hairspray plays 8 shows a week at the Neil Simon. The Neil Simon is on 52nd street between 8th ave and Broadway. Hairspray plays Tuesday at 8, Wedesday at 2 and 8, Thursday and Friday at 8, Saturday at 2 and 8, and Sunday at 3. Hairsprays run time is 2hrs and 40 mins, with one 20 min. intermission.
For more information on tikets you could call (212) 307-4100 or visit
www.ticketmaster.com
. Hairsprays offical site,
www.hairsprayonbroadway.com
will also have info. If you would like VIPTIX you could call BWAY Inner Circle at (212)-307-4599.